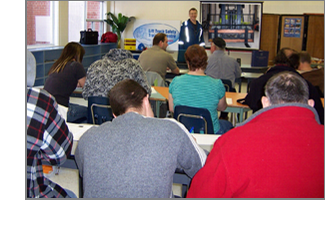 Lift Truck Safety Training Centre specializes in developing and delivering Canadian forklift safety training courses and materials to companies of all sizes and in all industries.
What sets us
apart from the rest?
Our winning combination of exceptional quality forklift safety training programs and professional instructors are trusted to be the best in the business.


Our ability to deliver the most engaging, enjoyable, clear and informative training ensures your operators receive a highly effective, worthwhile learning experience.


Our ability to go beyond the minimum Occupational Health and Safety regulations and inspire a zero incident standard continues to bring tremendous valve to our growing list of satisfied clients.
It's better to educate than investigate. When this education gets put off, a company may find themselves faced with a forklift incident to deal with. For that reason, Lift Truck Safety Training Centre also offers forklift accident/incident investigation services to companies who require this service in order to meet their obligations under the Occupational Health and Safety legislation.
On-Site Ready
Our services are provided on-site at the client's location. This is to help you fulfil the legislation requirements as they relate to safety training.
Our instructors and investigators are fully prepared for your work site.
We continually strive to anticipate and meet your business needs. If you have additional requirements, we ask that you inform us of these so that we may better serve you.